Numeric modulation can be heard over Europe and maybe more on 10.100Mhz

We can see two different signals :


We focus on the left signal. This is a RTTY Modulation, 50 bauds rate / Shift 450Hz. This see weather broadcast from Hambourg, Germany. The call is DDK9.
This is the configuration you need to set on MixW to be able to decode the signal :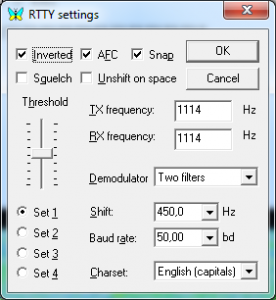 Interesting fields are :
Inverted : checked
Shift : 450
Baud rate : 50
Once this is configuration as explain and the receiver set to USB mode, you should be able to decode.
Between to meteorological bulletins, the station transmits this :
RYRYRYRYRYRYRYRYRYRYRYRYRYRYRYRYRYRYRYRYRYRYRYRYRYRYRYRYRYRYRYRY
CQ CQ CQ DE DDK2 DDH7 DDK9
FREQUENCIES 4583 KHB 7646 KHZ 10100.8 KHZ
RYRYRYRYRYRYRYRYRYRYRYRYRYRYRYRYRYRYRYRYRYRYRYRYRYRYRYRYRYRYRYRY
A sample bulletin received on mai the 24th 2013 at 10h30 PM can downloaded here : ddk9 24 mai 2013
Some more information are available in french here: http://f1agw.free.fr/Synop/Synop.htm